When:
September 11, 2019 @ 7:00 pm – 9:00 pm
2019-09-11T19:00:00-04:00
2019-09-11T21:00:00-04:00
Where:
Ukrainian East Village Restaurant
140 2nd Ave
New York
NY 10003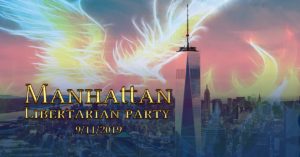 All registered Libertarians living in Manhattan are invited to attend a convention for the founding of a brand-new Manhattan Libertarian Party.
We will have a convention to turn our party from a chapter to an Interim County Organization (ICO), hold elections for Chair, Vice Chair, Secretary, and Treasurer, and adopt new bylaws.
You can register to vote or change your party affiliation here:
https://voterreg.dmv.ny.gov/MotorVoter/
People start arriving at 6:30 pm. The meeting is called to order at 7:00 pm and ends at 9:00 pm. The meeting is free. All are welcome. We don't pay for the room, so ordering from the menu and tipping the staff generously is encouraged.
http://www.yelp.com/menu/ukrainian-east-village-new-york
Please note that we are not meeting at our regular time. We will resume meeting the second Tuesday of the month in October.