Sep
10
Tue
Soho Forum: Nick Sarwark vs. Dave Smith

@ Subculture Theater
Sep 10 @ 6:30 pm – 8:30 pm
Not a LP event, but it's a Soho Forum debate featuring two Libertarian Party members so we encourage you to attend!
Tickets: https://www.eventbrite.com/e/soho-forum-debate-dave-smith-vs-nicholas-sarwark-tickets-61248815857
Dave Smith vs. Nicholas Sarwark
Resolution:
"The Libertarian Party should never again put up national candidates whose views are similar to those of Gary Johnson and Bill Weld"
For the affirmative:
Dave Smith is a stand up comedian, radio personality, and political commentator. Dave's outlet for his social commentary is his podcast, "Part of the Problem," which is released tri-weekly and available on gasdigitalnetwork.com, Apple Podcasts, and YouTube. He is also co-host of "The Legion of Skanks" weekly comedy podcast, also available on gasdigitalnetwork.com, Apple Podcasts, and YouTube. Dave has also been a regular commentator on CNN and Fox News. His full-length comedy special, Libertas, is available on Apple iTunes and Amazon Prime. Dave is also the regular opening act at the Soho Forum.
For the negative:
Nicholas Sarwark has been Chairman of the Libertarian National Committee since 2014, and after re-election in 2018, is the first person to be elected to three consecutive terms in party history. As a deputy public defender in Colorado, he tried more than 30 cases before a jury and argued in front of the Colorado Supreme Court. His media appearances include Reason magazine, the Wall Street Journal, the New York Times, Slate, Salon, and the Los Angeles Times, as well as on "Kennedy" and "Stossel" on Fox Business, "Stossel on Reason," the "Glenn Beck Program," MSNBC, NPR, and many more.
Cash bar opens: 5:45pm
Meeting convenes: 6:30pm
Reception: 8:15pm
Tickets must be reserved in advance.
Sep
11
Wed
Manhattan LP ICO Convention

@ Ukrainian East Village Restaurant
Sep 11 @ 7:00 pm – 9:00 pm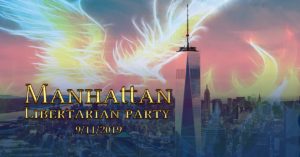 All registered Libertarians living in Manhattan are invited to attend a convention for the founding of a brand-new Manhattan Libertarian Party.
We will have a convention to turn our party from a chapter to an Interim County Organization (ICO), hold elections for Chair, Vice Chair, Secretary, and Treasurer, and adopt new bylaws.
You can register to vote or change your party affiliation here:
https://voterreg.dmv.ny.gov/MotorVoter/
People start arriving at 6:30 pm. The meeting is called to order at 7:00 pm and ends at 9:00 pm. The meeting is free. All are welcome. We don't pay for the room, so ordering from the menu and tipping the staff generously is encouraged.
http://www.yelp.com/menu/ukrainian-east-village-new-york
Please note that we are not meeting at our regular time. We will resume meeting the second Tuesday of the month in October.
Register :
Sep
12
Thu
Third Democratic Debate Watch Party

@ Cloister Cafe
Sep 12 @ 8:00 pm – 11:00 pm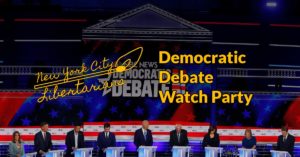 Watch the third Democratic debate with the Libertarian Party. We will meet at a private section at Cloister Cafe.
Debate lineup will be announced soon.
Tickets are $5 and can be purchased in advance at Eventbrite or at the door. All proceeds go to the Manhattan Libertarian Party to pay for expenses related to the event.
Meet our candidates:
Devin Balkind, candidate for Public Advocate
David Fite, candidate for City Council, district 45 (Brooklyn)