When:
July 31, 2019 @ 8:00 pm – 11:00 pm
2019-07-31T20:00:00+00:00
2019-07-31T23:00:00+00:00
Where:
Cloister Cafe
238 E 9th St. New York
NY 10003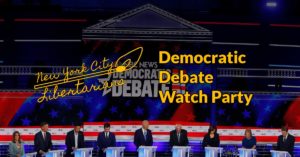 Join the Libertarian Party for a Demcoratic debate watch party. We will meet in a private room at Cloister Cafe. Let's try to figure out who's going to win, who's promising the most free stuff, and cringe at the one that panders the most.
Debate lineup:
Former Vice President Joe Biden, Sen. Kamala Harris, Sen. Cory Booker, former HUD Secretary Julián Castro, entrepreneur Andrew Yang, Sen. Michael Bennet, Mayor Bill de Blasio, Rep. Tulsi Gabbard, Sen. Kirsten Gillibrand and Gov. Jay Inslee.
All ticket sales go towards costs associated with the event. Thank you for your contribution!